Featured Vacation Rental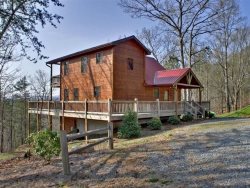 Moose Ridge - Great Mountain Views and Close To Town *Special $150 Per NIght*
Property Management
Why Choose Us?
There are many questions that arise over why rent or how do I know my property will be taken care of? Here are the top reasons homeowners find more value in "going with a pro:"
Income: Georgia Mountain Cabin Rentals helps to earn homeowners money when a property would normally sit empty. It's also common for us to earn extra guest loyalty and repeat visits by providing the guest services that homeowners can't when going it alone. We can also advise on local market conditions, travel trends, and how to expect and plan for seasonal occupancy demands.
Zoning and Legal Counsel: A professional evaluation is vital to determining whether a property is legally zoned for vacation rental business. Partnering with us also ensures the property will be operated under a proper tax ID and business license, lodging taxes will being collected on any income and remitted appropriately, and that the property meets ongoing inspection requirements. We are also held to a higher standard, we have a State of Georgia Real Estate Broker's License, are members of Vacation Rental Managers Association (VRMA) which have standards, and many other various licenses to ensure proper and professional management.
24/7 Attention: Georgia Mountain Cabin Rentals service the property, homeowners, and guests 24 hours a day, seven days a week, with quick and professional responses thanks to fully staffed teams nearby. We commonly handle questions or emergencies after-hours, a time when homeowners may not be able to (or want to) respond.
Guest Services: Day-to-day guest operations are made easier for homeowners, as our professionals handle all questions, we collect and process bookings, check guests in/out, etc. We,also offer concierge services, which makes a rental more marketable – think exclusive perks like a private chef, in-home spa treatments, local area guides with maps, grocery delivery options, discounts on activities, etc.
Marketing: Some of the biggest advantages to partnering with a professional Blue Ridge Mountain Cabin Rental Specialist, are the in-depth programs designed to market our inventory. Our company invests in high-resolution property video/photos, guest surveys, contests, promotional trade outs, brochures and rack cards, advertising, PR and more to drive additional business to our company, thus making each property more income. We typically reach a customer base of thousands with email campaigns, also handling things like search engine optimization, email marketing, social media, online listing sites and other strategies that lead more travelers to book with our properties.
Reservations: In person, over the phone or online, by check or credit card, our company makes it easier to book vacation rentals in a secure, professional environment. Rental and refund policies are clear, we take security/reservation deposits, and we also absorb credit card fees as a savings to their homeowners. All guests are required to sign detailed rental agreements, and we ensure guests are qualified as families or adult groups over age 25.
Housekeeping: Trained housekeepers keep managers' vacation rental homes cleaned to hospitality industry standards. Inspectors are often deployed to each property before and after every guest, ensuring consistency and quality.
Property Maintenance: It's standard for professionals to oversee services like lawn care, pest control, pool care, A/C service, etc. They maintain relationships with reliable vendors, and offer guests plans to cover accidental breakages."Going with a pro" also assures homeowners that there are "eyes and ears" for their second home, versus a property sitting empty without being checked or maintained.
Interior Design: Georgia Mountain Cabin Rentals can assist with staging and set-up for travelers, including ongoing support with insights and upgrades, and some even offer in-house interior design and property improvement services. Design pros provide detailed plans to meet market demands and make homes more profitable. For example, we can advise on repurposing spaces into game rooms or movie theaters, together with popular "extras," designs and amenities vacationers look for.
Accounting and Records: From revenues to repairs, homeowner payments to 1099s, homeowners count on monthly accounting of what is happening at their property. Many Georgia Mountain Cabin Rentals provides online access that allows homeowners to review account information, rentals and revenues, or make reservations on their own, at real time.
Property Management Services:
Thank you for the interest you have shown in our Property Management Services. Georgia Mountain Cabin Rentals would like to help you maximize your investment property and talk with you personally regarding your cabin. While every property and owner is unique, there are several important factors to consider when making the decision to place your cabin on a rental program. The following information will help you make the important decision about which management company will serve you best...we hope you will choose Georgia Mountain Cabin Rentals!
First, we do not really like to call the owners of our vacation cabins; Cabin Owners, Home Owners, Customers, Clients, Business Partners, but we prefer to call them FRIENDS. We generate a customized working relationship with each person and turn these into a great, both working and personal level friendships.
Georgia Mountain Cabin Rentals - established in 2004, Georgia Mountain Cabin Rentals has been a popular company since its inception. Our experience is invaluable in the process of managing your investment cabin successfully. Working together with our FRIENDS, we develop a plan that will greatly exceed your expectations for the overnight lodging business and in turn make your Blue Ridge, Georgia experience a great one. There are many reasons people like to use their property as a rental/investment property. Maybe you have purchased a cabin to retire in but want to come and stay as often as you can prior to retirement, strictly investment, or a temporary vacation spot for several years. Sharing your special property with other people is a way to express the many things that you like about the North Georgia Mountains to others, and hey let's face it, they help you pay the bills as well, and in some cases cover all the expenses of a mountain home ownership, making your vacation stays in your cabin absolutely free!!
Our Staff - Our customer service and reservation staff is friendly, professional and responsible. We have a full-time maintenance and inspection crew. Our maintenance crew participates in day-to-day customer service needs and deals with many different kinds of long-term maintenance issues. Since many of our property owners live a distance away, we look after our properties as if they were our own.