Featured Vacation Rental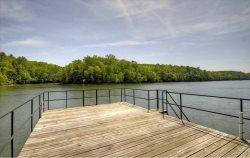 Favr`it Place - North Georgia Lake Front Cabin Rental
Blue Ridge GA Local Area Guide
Antique and Gift Shopping

Here you will find a few of the shops that offer amazing antique furniture, lighting, etc, some local to the area and some not. This is a great section if you are looking for find some really neat Blue Ridge, GA memories.
Bakeries

This is a category for the sweet lovers in all of us. If you need a birthday cake, sweets for special events, or some gourmet treats, this is your category. Some of the people in this category are even famous!!!
Blue Ridge Arts, Music, and Photgraphy

This section is devoted to the love of all arts in the Blue Ridge, GA and surrounding area. In this category you will see information about local art galleries, Blue Ridge Mountain Arts Association, local studios of pottery, photography, and music, also you will see about the Blue Ridge Community Theatre, where they have live music, plays, and other unique community events.
Breweries

This category contains information on the local Breweries in the Blue Ridge area. If you like craft beers, this is the place for you.
Campgrounds

Looking to "rough it" a little more than staying in a cabin? Here is a great place to find the alternative lodging, camping. Bring your tent or camper and set it up, and enjoy Blue Ridge, GA camping and nature at its finest
Waterfall Hiking Trails

This is a link to some of the Blue Ridge area waterfall hiking trails. In a 30 minute radius from Blue Ridge, Georgia you can find over 30 waterfalls to hike to. You can tour these waterfalls on "self guided tours" with a little help from some maps, our local Fannin County Chamber of Commerce, or just ask someone who is a native to the area and we can probably get you there. (if you ask a native be prepared for "go down to the holler there and take a left at the blacktop, go just a little ways and you'll see it on the left, you just can't miss it) the directions from a local are dead on, but you have to pay close attention.
Whitewater Rafting and Tubing

Enjoy extreme adventure on the Ocoee River. The Ocoee River was the site of the 1996 Olympic Whitewater competions. Come and feel the heart pounding excitement while rushing down the same sections that the pros were on. There are Class I rapids and all the way up to Class V rapids, all in the same adventure. Rafting the Ocoee River is a true experience only found in the Blue Ridge Mountains. The Ocoee River sees over 250,000 people per year, so make your reservations early!!
Blue Ridge Mountain Golf Experiences

There is not much that can compare to the beauty of a golf course in the Blue Ridge Mountains. When the dew is on the course and the sun is spreading across the valleys and mountains, with plush greens and fairways in your vision, you will know you are in the right spot. Here is a list of our favorite courses in the area. All are within a 30 minute drive of Downtown Blue Ridge.


Blue Ridge Outdoor Adventure

This category will feature some of the things to do in the outdoors while renting Blue Ridge, Georgia cabins. This will have links to places to go and things to see, but also notice we have other categories with specifics to things like hiking trails and waterfalls.
Hiking Trails in and around Blue Ridge, GA

The Aska trails and South Fork Trail and Loop ride in the nearby Cohutta national forest just west of Blue Ridge are mountain biking trails that double as some incredible hiking trails. Of course, all of the mountain biking trails mentioned in the Blue Ridge mountain biking section are welcome to hikers, but the most popular hiking trails in Blue Ridge are the Benton MacKaye and Duncan Trails. These trails offer remarkable changes in terrain and some of the most beautiful scenery of the Cohutta Wilderness. Directions and a detailed description of each trail are described below.


Mountain Biking

Blue Ridge has some great mountain biking trails in North Georgia for the beginner and more rugged terrain for the experienced riders. The 2 most popular mountain biking trails are the Aska trails and South Fork Trail and Loop ride in the nearby Cohutta national forest just west of Blue Ridge. These are also incredible Blue Ridge hiking trails.

The trails at Aska are the older of the two and mostly singletrack, which requires more concentration for some of the higher elevation trails. These Aska trails were previously hiking trails that were opened up for biking. The Stanley Gap trail is very tight near the top of Rocky Mountain and can be even more challenging if there is some winter snow on the ground like earlier this week. But hey most mountain bikers live for singletrack, so you'll love the challenge and can relax in the hot tub when you return to your mountain cabin retreat! The 2 major Aska trails are Deep Gap on Aska Road and Stanley Gap on Stanley Creek Road, which runs between the two if you have the energy and time.

In addition to the hardcore mountain biking trails, there is a short 2.3 mile beginner trail called Turkey Farm Loop just across the road. The Turkey Farm Loop is longer but is mostly a gravel trail along the Forest Service roads.


Scenic Driving Experiences

Blue Ridge, Georgia offers some breath taking scenic drives that allow you to enjoy the natural beauty of the mountains, rushing water rivers, green valleys, and wildlife all from the comforts of your vehicle. Below are just a few Blue Ridge, Georgia scenic drives to enjoy a leisure mountain tour, take in some off-roading in your 4-wheel drive, and some curves and steep grades for the adventurous sports car enthusiast.
Fire Wire Zipline Tours

| | |
| --- | --- |
| Location: | Blue Ridge GA |
| Url: | View Website |

Spa Treatments

| | |
| --- | --- |
| Url: | View Website |
| Phone: | 561-889-7499 |

Blue Ridge Scenic Railway

| | |
| --- | --- |
| Url: | View Website |

Blue Ridge Mineral Springs RV Park and Tent Camping

| | |
| --- | --- |
| Location: | Mineral Springs Rd. Blue Ridge, GA |
| Url: | View Website |
| Phone: | 706-632-5010 |

eagle Adventures

| | |
| --- | --- |
| Location: | Copperhill, TN Ocoee River Rafting |
| Url: | View Website |
| Phone: | 800-288-3245 |
| Toll Free: | 800-288-3245 |